Machine Code - Mechtropolis LP
25. 09. 2016
New Releases
Fatush
If there's one fan base from many Drum&Bass subgenres that has a true harvest this year - it is definitely the Neurofunk one. Especially when it comes to LP's area. They've been served a great line of releases already though the year 2016 and it isn't even finished yet. One of the fresh ones is the Mechtropolis LP - loaded with sixteen bullets crafted by time-proven project Machine Code.
Behind the project of Machine Code hides no other man than the founder of Subdivision, Dean Rodell and one of the most active producers ever - Current Value. This veteran duo (apart from releasing countless singles, remixes and EP's) is also behind five studio LP's to which they now added a sixth, released on one the most popular contemporary labels - Eatbrain.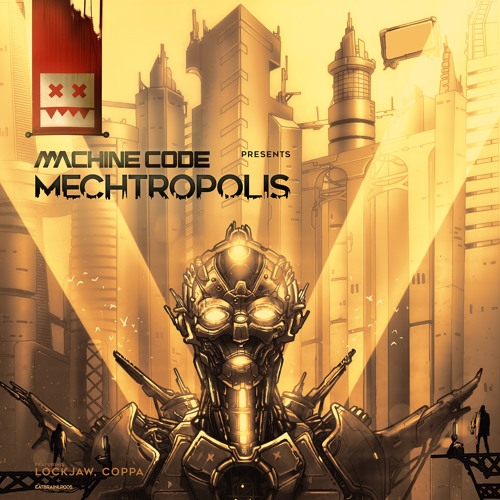 First five tracks featured on this album were available for listening already in the first half of this year. Track Planet 9 was included in Various Artist EP which Eatbrain released to promote their own label night at Let It Roll festival and the next 4 tracks were featured on a sampler released in June. It hosted two nimble pieces Test Run and Manouver, darkened collab with Coppa - Submerged and notably atmospheric Speaker. Now these five tracks gained eleven more and due to the wide scope of production we know from this project it is without doubt that almost everyone will find his favourite bit there.

Namely, one that definitely deserves to be mentioned is a collab with Lockjaw - Sonic Tower. This one, despite its name, will take you to the depths beyond the point of no return. Impressive bassline together with pounding drums created an atmosphere that could literally be sliced with a knife. Another track worthy of noticing is undoubtedly Can't Breathe. "First fiddles" of this tune are represented by electrostep inspired intro and catchy drop you could probably compare to Tim's old solo track 'Conditioning' released on Bad Taste Recordings.
Higher BPM fans's hearth will cheer when listening to Space Goat, which could be described as a fusion of acidtechno and techstep. You should give a listen to the last collab on this LP as well. Heavy drop topped up with a truly heavy Reece bass combined with Coppa's engaging voice makes Imagine a matter of the heart that could rinsed all the day long.

The rest of the tunes are definitely no worse than the ones mentioned above and despite the massive amount of released LP's this year, we can safely say that Mechtropolis is one of the best. We can only wait for what the Machine Code guys serve us next.

Artists
Label
| | |
| --- | --- |
| Name: | Mechtropolis LP |
| Release date: | 05/09/2016 |
| Exclusive Released: | Beatport |
| Catalog number: | EATBRAINLP005 |
Tags